Posts Tagged 'motivational poster'
Inspiration for All Walls – Jeremy Lin Posters Now on Zazzle
by Patrick Briggs, Zazzle Maniac
I love a good inspirational story and there's no better than the story of Jeremy Lin. An unheralded player for many NBA teams, Jeremy bounced around the league until he got his chance with the New York Knicks this year. Since the start of the season he has shined bright, proving his detractors wrong and kicking off a wave of fan fervor. It's great to see examples of someone that has the heart and the passion to pursue his dreams and never give up. To me, it's same kind of passion I see around the Zazzle offices as we continually work to build the world's largest customization platform and community for artists, customers, and manufacturers. That's why we're happy to have a great collection of Jeremy Lin posters on Zazzle through our partnership with Getty and the NBA. He's an inspirational message for basketball fans and customization fans alike! You better believe some of the below posters are going to make it onto the Zazzle Office walls.
What inspires you? What "never say die" story do you have in your life? How did you/how do you succeed? Share in the comments.
via Inspiration for All Walls – Jeremy Lin Posters Now on Zazzle « Zazzle Blog.
Categories:

Posters and Prints, Zazzle Blog
#17, Fan, gift, Jeremy, Jeremy Lin, Knicks, Lin, Lin-Sanity, Linsanity, motivational poster, NBA, New York, New York Knicks, posters, wall art
Get this awesomeness poster and be awe… wait for it… some!
No How I Met Your Mother collection would be complete without Barney Stinson's classic Awesomeness Poster. The poster makes its first debut in Season 1, Episode 17, and reads, Awesomeness: When I get sad, I stop being sad and be awesome instead. True Story.
Want a BIGGER Awesomeness Poster?   Here it is!
Posters are printed on high quality gloss finish paper with archival quality inks. Perfect for dorm rooms, kids rooms, offices, and more.
Want a framed Awesomeness Poster?  Here it is!
Prints are framed behind plexiglass cover within a 2″black wooden frame and are double white matted. Framed prints are a great way to add style and sophistication to your home or office.
Want an Awesomeness Poster Wall Decal?  Here it is!
Wall Decals are printed on heavy grade vinyl with a unique adhesive which allows the decal to be removed and re-applied multiple times. Perfect for dorm rooms, kids rooms, doors, and more.
---
    For wall-to-wall fun,  from dorm rooms to the board room this Awesomeness poster is a winner.  Available in all sorts of sizes of wall posters from 11 x 16 posters to 40 x 48 posters. Turn the Awesomeness Poster into a wall decal, framed print, or canvas art.
---
Most Orders Ship in 24 HoursEasy Returns, Easy Exchanges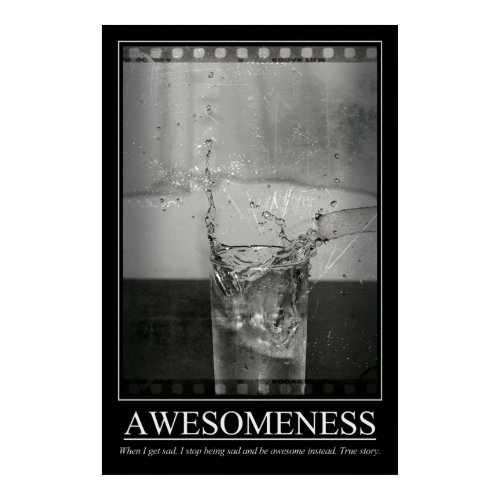 ________________________________________________________________________________________________________
Categories:

Awesomeness Poster, Posters and Prints
awesome, awesome instead, awesomeness, awesomeness poster, awesomeness poster barney, awesomeness wallpaper, barney, barney stinson, barney stinson poster, barnie stinson, be, being, demotivate, demotivational, demotivational posters, funny, funny motivational poster, get, gifts, himym, how, how i met your mother, how i met your mother poster, humor, i, instead, joke, met, mother, motivational, motivational poster, office, poster, posters, room, sad, shirt, story, true, tv, when, when i get sad i stop being sad and be awesome instead