Check out Zazzle's five new ways to dress your walls! We've added real professional photography, wrapped canvas prints, standard and custom framing, and a complete makeover of posters tool to make shopping or creating art on Zazzle easy and fast.  Shop millions of images from around the world or create your own masterpiece for the perfect office or home decoration. Explore Zazzle's new custom wall art today!
Extreme Poster Makeover
Featuring the same speed and quality that you've come to expect from Zazzle, we've added new paper options, standard and custom framing, and best-in-class product visualization for easy and quick shopping. Choose a poster with new archival paper and a UV-protection custom frame for an art piece designed to beautifully withstand the test of time.  Start shopping our collection of posters from around the world and we'll make a poster to cover your walls in as little as 24 hours.
Photos on Canvas – Your Moment.
Your Memory. Your Masterpiece.
A photo can become a beautiful artistic piece with new wrapped canvas prints.  Printed on 18 mm. heavyweight matte canvas and painstakingly hand-stretched onto 100% wood frames, your photos will have an artistic texture, finish and feel that is unmatched by any other printing process.
As small as 4″x6″ or as large as 40″x60″, for those who demand exceptional sharpness and image quality in photography, there is no better option than Zazzle's professional photographic prints.  These prints are produced using an Océ silver-halide process designed to satisfy the highest quality standards of even the most discriminating professional photographer.
Art from the World's Greatest Brands
The world's content is just a search away on Zazzle.  Find music posters from your favorite bands, or decorate your walls with unique art from movies, comics, games, TV shows and more. From Star Wars, DC Comics, and Disney, to Harry Potter, Nickelodeon and Looney Tunes, Zazzle has cool wall art for fans of all ages.
Standard Frames
Frame your poster quickly and beautifully with a standard frame. Ready-made, standard frames are an affordable finishing touch for any standard size poster.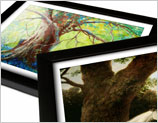 Custom Frames
Designed for a lifetime of viewing (200+ years), custom frames are made by you and handcrafted by Zazzle professionals. Choose from 40 acid-free mat colors, 3 glazing types, and 84 wood and metal options.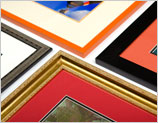 Make your own art!  Choose a product type to customize: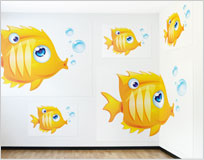 Coming soon!
Wall stickers are a fun way to stick, peel, and re-stick your favorite art on walls, ceilings, and even windows!  These vibrantly printed wall stickers are sure to leave a mark on your guests without leaving a
mark on your walls.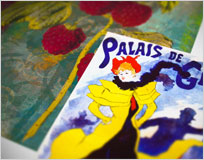 Coming soon!
Giclée printing has long been held as the gold standard for museum-quality reproductions of art and photography. Using a wide color spectrum and fine droplets of ink at a resolution as high as 1800 dots per inch, Giclée is one of the most precise methods of reproducing fine art. Giclée prints will be perfect for artists and photographers who want to offer prints of their work without purchasing a large quantity upfront or storing inventory. Coming soon on a range of museum-quality papers, Zazzle's Giclée printing will be a unique art experience with 100+ year archival ratings.  Order your Giclée with custom framing and UV-protection acrylic for a print designed to last 200 years or more.
* 50% of the photographic print, posters, and/or wrapped canvas print net sale price will be deducted when one or more qualifying products are purchased and the coupon code DECKYOURWALL is applied at checkout. The net sale price is the price of the product (excluding shipping and taxes). Offer is valid through September 7, 2011 at 11:59pm PT. This promotional offer does not apply to past purchases and may not be combined with any other Zazzle promotional or volume discount offers. If a volume discount applies to your order, you will receive either the discount set forth in this offer or the standard volume discount, whichever is greater. Offer valid on Zazzle.com only.