Posts Tagged 'being'
via Zazzle Blog
Zazzle Partners with CTC International Showcasing Original Artwork Created by Children of Kenya
By ZazzleBrandista
A few months ago Comfort the Children International Founder, Zane Wilemon, reached out to Zazzle about an inspiring idea we just could not refuse.
The idea was to partner with their organization, which helps Kenyans build and manage sustainable infrastructure, by showcasing original artwork created by Kenyan children on Zazzle.
The group of young artists, ranging in age from 3-18, were guided and encouraged by CTC staff members, on how to use Zazzle's online tools to turn their art into products available for sale online.  Armed with little more than paintbrushes, crayons, and a love of drawing, young Kenyans took their community fundraising efforts to canvas. Working alongside CTC, the children made their artwork available for purchase on Zazzle, with a portion of the proceeds to support CTC-related efforts in their local communities.  See below for some of the great designs that support CTC and their charity work!
Categories:
Personalized Gift Articles
africa, art, art work, being, camera, charity, children, comfort, Comfort the Children International, community, ctc, donate, economy, education, environment, health, healthy, helath, holistic, hug, hugging, international, jeremiah, josiah, joyce, kenya, kids, kuria, liz, maai, mahiu, mindy, org, play, poverty, school, stallings, well, wilemon, zane, zazzle, zebra
Get this awesomeness poster and be awe… wait for it… some!
No How I Met Your Mother collection would be complete without Barney Stinson's classic Awesomeness Poster. The poster makes its first debut in Season 1, Episode 17, and reads, Awesomeness: When I get sad, I stop being sad and be awesome instead. True Story.
Want a BIGGER Awesomeness Poster?   Here it is!
Posters are printed on high quality gloss finish paper with archival quality inks. Perfect for dorm rooms, kids rooms, offices, and more.
Want a framed Awesomeness Poster?  Here it is!
Prints are framed behind plexiglass cover within a 2″black wooden frame and are double white matted. Framed prints are a great way to add style and sophistication to your home or office.
Want an Awesomeness Poster Wall Decal?  Here it is!
Wall Decals are printed on heavy grade vinyl with a unique adhesive which allows the decal to be removed and re-applied multiple times. Perfect for dorm rooms, kids rooms, doors, and more.
---
    For wall-to-wall fun,  from dorm rooms to the board room this Awesomeness poster is a winner.  Available in all sorts of sizes of wall posters from 11 x 16 posters to 40 x 48 posters. Turn the Awesomeness Poster into a wall decal, framed print, or canvas art.
---
Most Orders Ship in 24 HoursEasy Returns, Easy Exchanges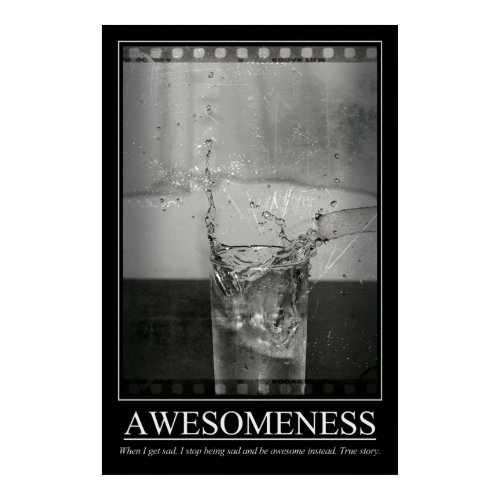 ________________________________________________________________________________________________________
Categories:

Awesomeness Poster, Posters and Prints
awesome, awesome instead, awesomeness, awesomeness poster, awesomeness poster barney, awesomeness wallpaper, barney, barney stinson, barney stinson poster, barnie stinson, be, being, demotivate, demotivational, demotivational posters, funny, funny motivational poster, get, gifts, himym, how, how i met your mother, how i met your mother poster, humor, i, instead, joke, met, mother, motivational, motivational poster, office, poster, posters, room, sad, shirt, story, true, tv, when, when i get sad i stop being sad and be awesome instead